8" x 10" COMBO Horizontal Guitar Pick Display Frame - CLEAR - Holds 28 Regular BASS Picks and 6 Bass Guitar Picks
Plectrum Spectrum™ Guitar Pick Displays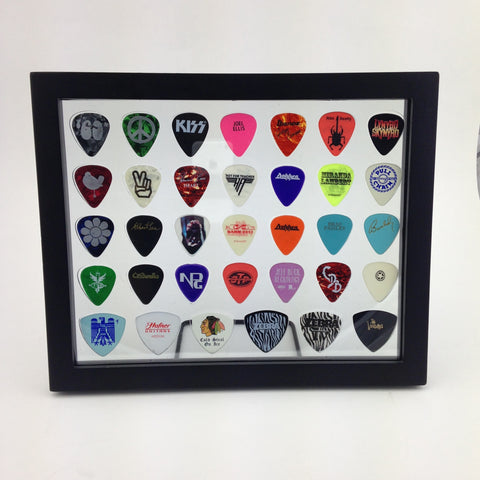 Plectrum Spectrum Guitar Pick Displays has taken the ubiquitous guitar pick and made it a work of art! Our display inserts are designed to display both sides of your guitar pick collection using a double sided float frame. Whether it is vintage guitar picks, band guitar picks, solo artist picks, promo guitar picks, OR any pick Plectrum Spectrum Guitar Pick Displays has you covered.
All display inserts have precision laser cut standard 351 guitar pick shaped holes to house your collection.  Each insert fits perfectly in an 8" x 10" float frame with no wiggle for picks to slide out.   
FRAME INCLUDED
The model in this listing holds 4 rows of 7 picks and 1 row of 6 BASS GUITAR picks for a total of 3 guitar picks using clear acrylic.  
Display a collection in your music room, practice room, music store, on top of your amp, bookcase, or simply hang on any wall. Display your picks FOR ALL TO SEE!  Are you a touring band who uses custom made guitar picks?  Use our product as merchandise displays at your shows!  

Plectrum Spectrum Guitar Pick Display Inserts are proudly made in the United States of America.
---
More from this collection